Youth Tennis Foundation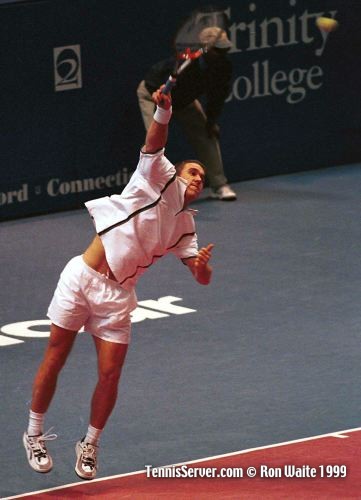 Last night Shannon had the privilege to play Alex O'Brien, a local guy who (before he retired) happened to be the #1 doubles player in the world. Since retiring from the pro circuit in 2001, Alex has moved back to Amarillo and started a foundation to help kids get started in tennis. He wants to be ale to expose kids to tennis by setting up a program similar to that of Kids Inc. This way, kids have the opportunity to learn to play who maybe couldn't afford to otherwise. He's hoping to be able to provide rackets and coaches for the league.
Now, back to why Shannon was playing Alex. First, let me say, Shannon is a freakin' awesome tennis player! I'm not just saying that because I happen sleep with him, he really is THAT good (at tennis). Alex is getting ready for a fundraiser thing and so he and Shannon decided on a little wager... Shannon would give the foundation $1000 if Alex beat him and should Alex loose, he would give the foundation $500 and Shannon $500. Alex gave Shannon a 4 game lead in each set to be fair. They would play best out of 3 sets.
Shannon was pretty nervous at first. He had invited several of his buddies to come watch and now was feeling the pressure to perform. He was also worried about some injuries that have been giving him issues lately plus, he had been sick all of last week and didn't get to practice and condition like he wanted. Watching Alex warm up didn't help either. Alex is amazingly smooth and fluid. He makes tennis look easy to say the least. His serve is huge and he can get to almost anything and place the ball anywhere in the court. He is pro record is quite intimidating as well. This is the wikipedia info on him:
Alex O'Brien (born March 7, 1970 in Amarillo, Texas) is a professional tennis player from the United States, who competed on the ATP Tour. He was the No. 1 doubles player in the world (gaining that ranking on May 8, 2000) and was ranked as high as 30 in the world in singles (gaining that ranking on June 21, 1997).
He won his only singles title at New Haven, Connecticut, in 1996. He won 13 doubles titles, the biggest coming at the US Open in 1999, the Cincinnati Masters in 1994 (his first doubles title), the Indian Wells Masters in 2000, and the Paris Masters in 1999.
He also reached 20 doubles finals, including the Australian Open in 1996 & 1997, the U.S. Open in 1995, the Miami Masters in 1998, and the Canada Masters and the Rome Masters in 1997.
He also played on the United States Davis Cup team, and was a four-time All-American at Stanford University where he won NCAA singles, doubles and team titles in 1992. He earned a bachelor's degree in American Studies at Stanford in 1992.
And the match begins. The first set goes to Alex but not easily, 7-5 was the score. The second set, Shannon was in the zone by then and pulled it out, 6-3! It was fabulous to watch and they were both playing hard. Alex wasn't just toying with Shannon either, he didn't drop shot or lob him, he didn't play left-handed (he's right-handed) either. They go to a 3rd set tie breaker which Alex picks up but again, not easily at 10-8. They competed almost 2 hours. It was a fabulous match to watch and so fun to see my hubby play his A-game and give a pro a run for his money.
Alex is a super nice guy and really down to earth. He was very complimentary of Shannon's ability and competition. After the match, Shannon and a few other friends hung around listening to Alex's stories of being on the pro circuit and the other athletes he got to know. Alex played with or against Stephan Edburg, Pat McEnroe, Andre Agassi and John Courier, just to name a few. A little impressive if you ask me. It was a fun night for all involved, not to mention lucrative for the foundation...
If you are interested in learning more about the Alex O'Brien Youth Tennis Foundation, contact Dave Olesen at Tascosa Tennis Center: tascosatennis@yahoo.com or 806-372-1276.